Trex Composite Decking and Steel Elevations Support System
Our business was built on the invention and perfection of wood-alternative decking. And although we've expanded our outdoor offerings through the years, the enduring beauty and hassle-free maintenance of our decking and railing materials still inspires every innovation.
Composite decking materials offer the look of wood without the need to stain. And as the material evolves, it continues to take on new colors and textures, as evidenced by several new products launched by Trex and Fiberon at the International Builders' Show in Las Vegas. If you're planning a new deck, patio, or other outdoor space, you may want to give these attractive wood alternatives a look.
With Trex®, beauty is more than deck-deep. In fact, we offer high performance from bottom to top, and that includes deck framing, the piece of the project people rarely consider but builders know makes all the difference. Elevations durable steel posts, beams, joists and tracks–which, ironically, offer more design flexibility than wood–create the strongest, straightest and, yes, greenest structures down below.
Trex® at its very best  
– Unparalleled Beauty
Transcend decking's deep wood-grain pattern and eight luxury colors create a premium, ageless look that leave other composites in the dust.
– Hassle Free
No sanding. No staining. No painting. No kidding. (Not to mention simple soap-and-water cleanup.)
-Fade, Stain, Scratch and Mold Resistant
Transcend maintains its vibrant color and luxurious finish–come scorching sun or red-wine spill–thanks to its unyielding, three-side shell protection…and our 25-Year Limited Residential Fade & Stain Warranty.
-A Green Deck
See how using a 95% recycled board (that's almost the whole thing) makes you feel about the great outdoors.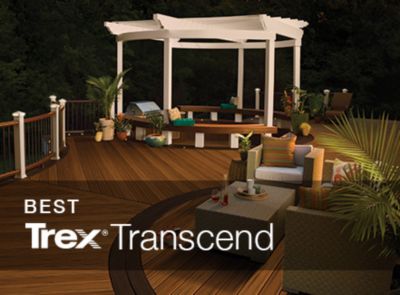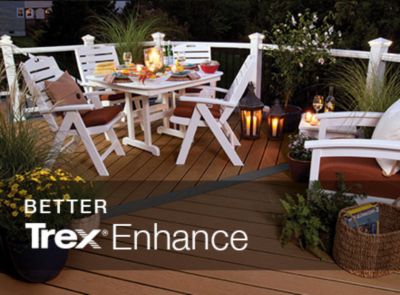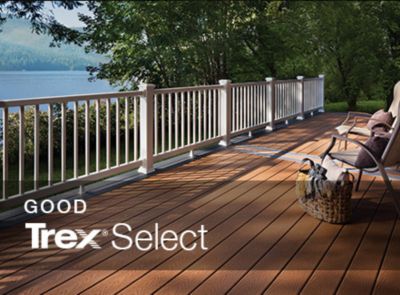 Outperforms, outlasts, outdecks all others     Trex® signature strength in three versatile colors       Our simplest high-performance offering